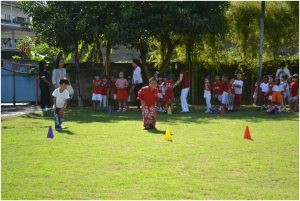 Time flew away remarkably fast when it was filled with excessive fun and learning activities happening across the campus over the last two months in Lollypop Preschool.
On Friday 19th August 2016, Lollypop Preschool celebrated Indonesian Independence Day with magnificent enthusiasm buzzed heavily in the air. The children camein red and white as to represent the Indonesian flag and brought in such eagerness   to school prepared to enjoy the day.
As a kick off to start the day, children lined up and paraded around Lollypop Preschool and SekolahLenteraKasih campuses. Soon, then it was followed by Indonesian Independence Day assembly, as a remembrance to the important date. In this occasion, the children had the opportunity to learn the Indonesian Independence Day history. Bali International School
As the day got warmer, the children then went with their respective teachers to enjoy different games. Preps and Kg children competed each other on "sack race" and "kerupuk race" whilst the younger children competed on "flag planting race" and "ball race".  The day was full with loud laughter and wide smile both from students' and parents, who were welcome to watch and support.
The excitement did not stop there because lots of delicious, healthy and yummy food, cakes and cookies were waiting in the classrooms from parents for children to share.  As to sum up the day, the Prep children were invited to demonstrate their musical talents to SekolahLenteraKasih students and parents.
Everybody had so much fun!